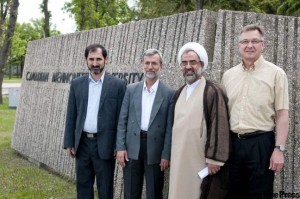 They visited Winnipeg to talk about their about their theological understanding of human nature, but seven Iranian Muslim clerics also came away with some practical examples of how Christians live and express their faith.
"People were very friendly and it was a warm environment," Mohammed Fanaei Eshkevari said after attending a Sunday morning worship service at Bethel Mennonite Church. "We never felt we were among strangers."
Fanaei Eshkevari and six of his colleagues from the Imam Khomeini Education & Research Institute in Qom, Iran, met at Canadian Mennonite University earlier this month for three days of closed-door discussions with seven Mennonite theologians from Canada and the United States.
It marked the fifth formal meeting between Shia Muslim scholars from Iran and Mennonite scholars, and the first time the dialogue met in Winnipeg. The previous Canadian meetings took place in Toronto and Waterloo, Ont.
The Winnipeg event also marked the first time Iranian Muslim women were involved, with nine female graduate students attending as observers and staying an extra week to study peacemaking from a Christian perspective.
Although these discussions are intended to be theological, not political, the Iranian scholars asked for closed meetings to prevent a repeat of protests by Iranian Canadians that shut down a public forum at the 2007 dialogue in Waterloo, says a CMU professor participating for the second time.
"It was they (the Iranians) who said we will not come if any of your events are for the public," explains Gordon Zerbe of CMU.
No media interviews were granted with the Muslim clerics until the end of the dialogue.
These formal theological dialogues began after Iranian religious leaders were curious about the Mennonites who offered aid and relief supplies through Mennonite Central Committee after the devastating 1990 earthquake in Iran. MCC went on to organize an exchange of scholars, which grew into a biennial dialogue that alternates between Iran and Canada.
The early June meetings, also attended by 40 Christian observers from across North America, dealt with Muslim and Christian perspectives of human nature.
"The one difference between us and Christian thinkers is the sinfulness of human nature," explains Abolfazl Sajedi, a philosophy and religion professor who obtained his doctorate at Concordia University in Montreal.
"In Islam, we are not created sinful."
Not all Christians believe the same thing about human nature, and Mennonites in particular have a different perspective on original sin, says Zerbe.
"We (Mennonites) don't agree with the idea that it (sin) is inherent in the human condition when we are born, so therefore we don't practise infant baptism."
He says this dialogue allows for a frank exchange of opinions and provides a forum for theologians to politely disagree, while still maintaining long-standing relationships across religious and political boundaries that are normally hard to cross.
"I've talked to a lot of detractors who are very critical of this. They see it as a compromise," says Zerbe.
"For me, dialogue does not mean compromising beliefs, it means expressing them to the other side."
For the Iranians, a side benefit of their Winnipeg trip was their visit to the James Valley Hutterite colony near Elie, where they witnessed the communal way Hutterites live out their faith.
"We found out how a community can have such a high commitment to their religion and values while living in a material and individualistic world," says Fanaei Eshkevari.
"We found if we want, we could (also) protect our children from modernity."
Over the years, the Muslim and Christian scholars have tackled theological topics such as spirituality, peace and the authority of scripture, with scholars from each group presenting formal papers for discussion.
Although the exchanges are important in understanding each other's theological positions, the real benefit is in building relationships with scholars from other traditions, says a participant who has attended three dialogues.
"Probably the most important thing that happens when you do this three, four, five times in a row with the same people over 10 years is we become friends," explains Harry Huebner, a theology professor from CMU.
"We pray for each other, we enjoy each other, we bless each other even though we are significantly different."
That relationship with Mennonites and other denominations — the Iranians also have an ongoing dialogue with Catholics in London, England — is the first step toward creating a faith version of globalization, says an Iranian cleric and education professor educated at McGill University.
"When we understand each other, we are able to recognize each other, we are able to see the other, who are different than us," says Abbas Ali Shameli.